The Horse Hospital is a three tiered progressive arts venue in London providing an encompassing umbrella for the related media of art, film, fashion, literature and music.
It provides a unique and distinctive arts and artist-led environment in which the arts can flourish for the benefit of local residents, tourists, visitors and practitioners.
As the only independent arts venue of its type in the UK, there is both a duty to aim for the broadest possible access to the arts across a broad range of artistic activity and practice and an opportunity to encourage risk, innovation and experimentation.
The building, its exhibitions and events, attract over 5000 visitors per year. Twenty-five years on and with a huge archive of rare films and access to a definitive wealth of underground artists, performance artists, filmmakers, alternative musicians, photographers, fashion designers and writers who participate in its success, The Horse Hospital is now firmly established in the London arts and fashion industries.
Prestigious organisations such as the BFI, the Hayward Gallery, the Victoria & Albert Museum, the Barbican Centre, the Shishedo Gallery in Tokyo and the Brooklyn Museum of Modern Art in New York have all worked in conjunction with The Contemporary Wardrobe, The Chamber of Pop Culture and kinoKULTURE over the years giving the Horse Hospital international recognition.
The Horse Hospital is London's longest running, truly independent arts venue.
We are alternative, celebrating irreverence, individualism, anti-conformism, sincerity and integrity.
Championing the outsider, the unfashionable, the other. Rejecting professionalism, strategy, power and selling out, rejecting the market, the secondary market and the homogenisation it breeds furiously. Embracing the DIY, the independent, the difficult, the intuitive, the romantic and the life affirming.
This ethos is strongly reflected in the programming of our gallery, The Chamber of Pop Culture, our film program, kinoKULTURE and various events.
The Building
The only existing unspoilt example of a two-floor, purpose-built stable remaining for public access in London.
Situated in the heart of historic Bloomsbury, at the corner of Herbrand Street and Colonnade – a working mews immediately behind the famous Hotel Russell, midway between London's West End and Spitalfields arts district and built originally in 1797 by James Burton, the building may have been redeveloped sometime after 1860.
The shell is constructed with London Stocks and red brick detail, whilst the interior features a mock cobbled herringbone pattern re-enforced concrete floor. Access to the both floors is by concrete moulded ramps. The upper floor ramp retains hardwood slats preventing the horses from slipping. Each floor has five cast iron pillars and several original iron tethering rings.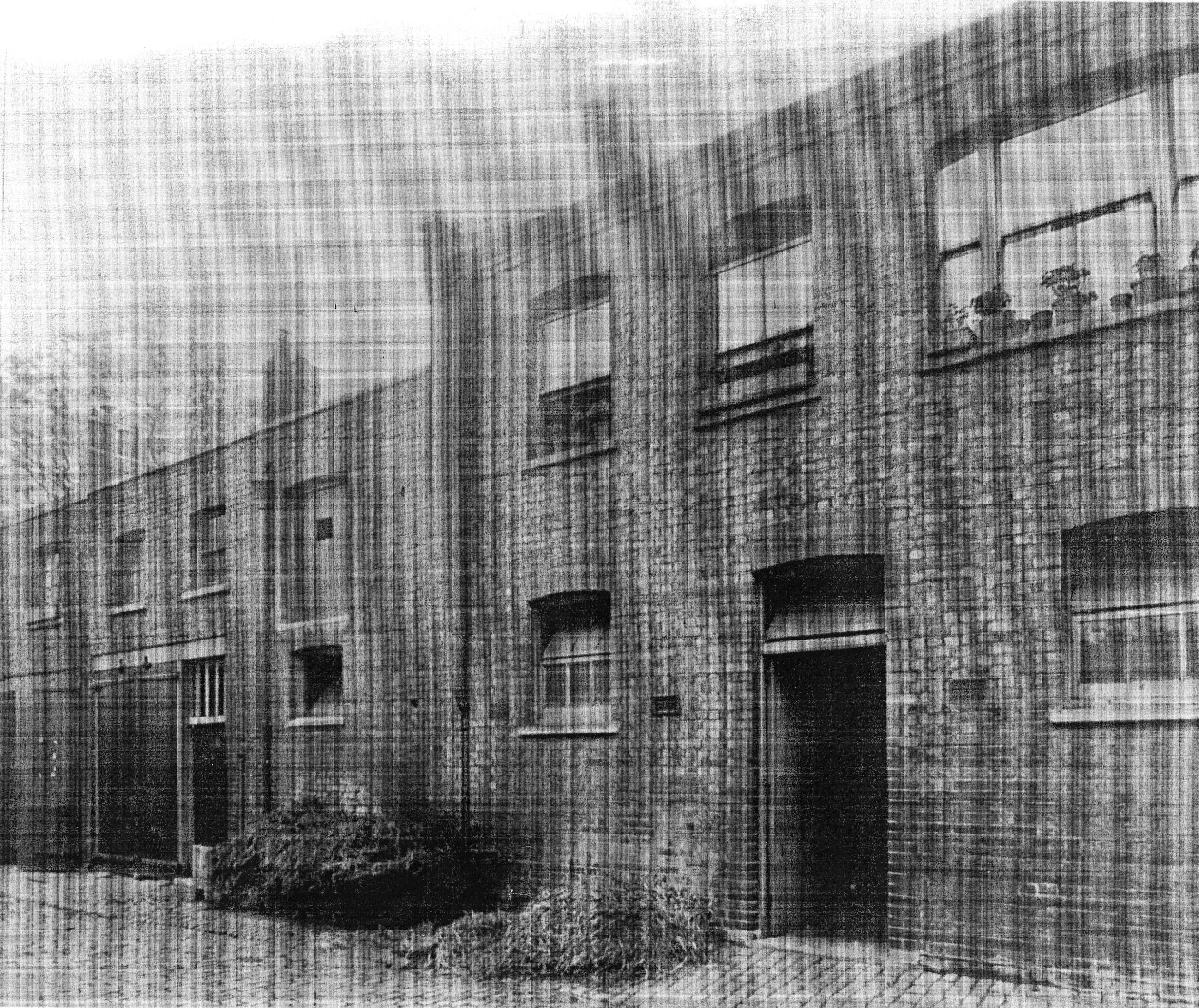 We are seeking support for our ongoing programming – all donations welcome!